BACK TO NEWS & EVENTS
March 5, 2020
D.C.'S best holiday lights for 2019
The winter holidays are here and it's time for one of our most cherished American traditions – waiting in rapt anticipation for the moment when something ordinary is suddenly transformed and bathing us in the warmth of thousands of tiny lights. Holiday lights, the simplest of holiday décor, are always greeted with wide eyes, big smiles and a chorus of oohs and ahhs. The twinkling of glass bulbs tells us the season of Washington D.C. holiday events has officially begun.
So, if you're looking to add sparkle to your holidays, from festive and heartwarming to over-the-top, DC has the most spectacular holiday light displays anywhere (and most are free). Its tree lightings, light festivals, and parades, on land and water, are sure to make your holidays bright.
SHEDDING LIGHT ON THE HISTORY OF HOLIDAY LIGHTS
Our obsession with the bright and shiny has been part of holiday celebrations for nearly a millennium. Way, way back in 12th-century Germany, as the winter months set in and days, become shorter, families lit Yule logs. It was their way of making long winter nights a little shorter. The blazing log represented the return of the sun after the winter solstice. The Yule log then evolved into lighting small candles on Christmas trees. Lovely to look at, but with evergreen trees notorious for bursting into flames, nervous merrymakers had to be at the ready with buckets of water or sand. So, don't try this at home. The big change came in 1882, when Edward H. Johnson, an associate of Thomas Edison, literally had a bright idea. He strung 80 red, white and blue bulbs around a small tree. To add to the spectacle, he placed the tree on a contraption that rotated on an electric crank. This was a big deal at the time. So big that in 1895 the White House, under Grover Cleveland, got in on the excitement and had its first electric lit Christmas tree.
The holiday lights craze had begun. By the turn of the 20th century, magazines ran ads for the rental of strung Christmas lights. Yes, rental. They rented them because General Electric's very first 24-bulb light set in 1903 ran a whopping $12. That's about $340 today. Even though they were priced where only the rich could afford them, the contagious appeal of lights spread like, well, fire on an evergreen tree full of candles.
On a brisk DC winter evening in 1923, President Calvin Coolidge flicked the switch that lit up the very first National Christmas Tree to grace the White House grounds. The 48-foot-tall balsam fir, from Coolidge's own home state of Vermont, was adorned with a strand of 2,500 red, white and green bulbs. Today, we can easily beat that number on the tree in our own living room. But at the time, it was nothing short of miraculous. This was the beginning of a beloved White House tradition that stands today.
In 1925, big changes came. Fifteen or so Christmas light companies came together to form a consortium. This allowed them to produce the lights at a lower cost, spreading holiday cheer to the multitudes. More than a century later, those 80 bulbs bourgeoned into hundreds of millions of tiny electric lights that decorate American homes and around 40 million trees each year. From those first simple strings of bulbs to computer-controlled LED light displays synced to music, the holiday light bulb has come a long way.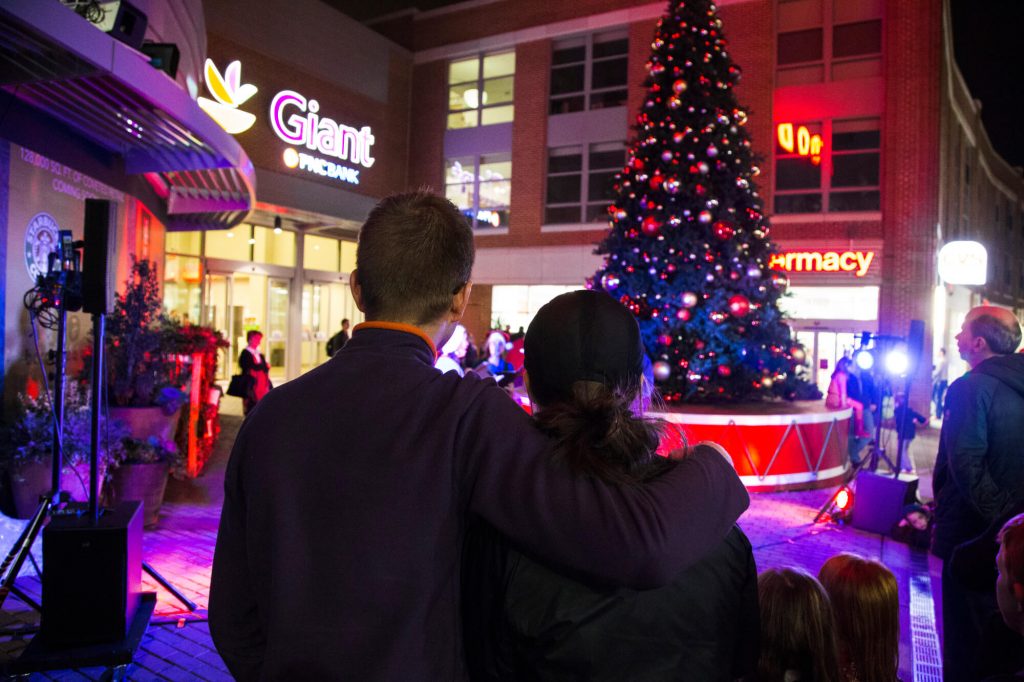 WHERE TO GO TO SEE THE SHOW – 2019 HOLIDAY EVENTS IN D.C.
ZOOLIGHTS
November 29, 2019, to January 1, 2020 (except Dec. 24, 25 and 31), 5 pm to 9 pm, Free Admission (ride tickets are $3 each)
At the Smithsonian's National Zoo, at 3001 Connecticut Avenue NW, over 500,000 environmentally-friendly LED lights turn the Zoo into a winter wonderland! You can enjoy live musical performances, yummy winter treats, and a European-style outdoor market. This year, there are a few new attractions. You can stroll through a luminous field of lights as part of the interactive, and very Instagrammable, art exhibit "Entre Les Rangs." Also new this year are dozens of large animal lanterns. Elephants, pandas, zebras, monkeys and more are beautifully lit from within and stationed throughout the park. And don't miss the new "Pandamonium: A Virtual Experience". You can put on a virtual reality headset and get up close to giant pandas in this immersive film. There are also seasonal favorites like a train ride that winds around the Great Cats exhibit, 150-foot-long tubing tracks and the chance to see the nocturnal animals in the Small Mammal House, Reptile Discovery Center, Think Tank and Great Cats areas. There's something for everyone. And don't forget to share your #DCZooLights experience on social media.
Good to know: Parking is limited. So, de-stress your night by utilizing DC's notable public transportation.
Fun fact: The zoo's carousel, featuring 58 hand-carved animals that have benefited from the zoo's research and conservation programs, is powered exclusively by solar energy.
Light count: More than 500,000
December 6, 2019 to January 5, 2020, 5 PM – 10 PM, Free
One of DC's most anticipated holiday traditions, Georgetown GLOW, in the Georgetown commercial district, is back for it's third year. Set against the backdrop of DC's oldest neighborhood, GLOW is the region's only free curated outdoor public light art experience. The 11 light art installations feature interactive works by local, national and international artists. This year's draws include an arch made from 5,000 LED lights with bicycles that invite visitors to hop on and take part in a "light battle" and an attention-grabbing installation that contains three live dancers, for an exclusive and unique audience/performer connection.
Additional events include more than 30 walking tours, holiday promotions and events at more than 35 Georgetown shops and restaurants, A Book Hill Holiday event, and more. Check the website for information on each artist and installation as well as tour information.
Good to know: You can arrive in a unique way. The Potomac Riverboat Company offers a scenic mode of travel with a new Wharf Water Taxi that connects The Wharf with Georgetown.
Fun fact: At the "Pandora's Box" installation visitors are encouraged to rest on benches lit from within, creating a mesmerizing glow. The effect is visitors happily interacting with each other. Try it and see what happens.
Light count: With eleven different installations, let's just say there are lots of lights.
November 8, 2019 to January 5, 2020 (including holidays), 5:30 pm with last admission at 9:15 pm, timed tickets are required
Put on your walking shoes and bring your family and friends to be enchanted by the captivating Winter Walk of Lights at the Meadowlark Botanical Gardens, 9750 Meadowlark Gardens Court, Vienna, VA. This is the 8th year that the garden is transformed into a half-mile of exquisitely illuminated gardens. Feel free to go at your own self-guided pace, as signs direct you along the walk. Enjoy the new displays each year but be sure to revisit favorites like the animated Lakeside Lights, the Fountain of Lights, and the Holiday Nature Walk. When you've seen all you can see, thaw out next to a warm fire, roast marshmallows and sip on hot beverages. (Available for purchase at S'more Snacks Shop).
Good to know: Buy your tickets in advance online. The lowest ticket prices can be found at winterwalkoflights.eventbrite.com.
Fun fact: It takes Meadowlark staff, park volunteers, and contractors three whole months to install the lights and displays (longer if the cords weren't wrapped up neatly last year).
Light count: More than 500,000
December 5 through January 1, from dusk to midnight, Free
The lighting of the National Christmas Tree, at the Ellipse near the White House, has been a much-loved holiday tradition in DC since 1923. Each year visitors from around the world come to check out the tree's unique decorations along with seasonal displays and live performances. In 1954, the "Pathway of Peace" was added. The pathway, surrounding the National Christmas Tree, is made up of 56 smaller decorated trees representing the 50 states, five territories, and the District of Columbia.
The tree is illuminated during the holiday season each evening from dusk until midnight. Visitors are encouraged to stroll through, enjoy the trees and other displays like the Yule log, a large-scale model train, and a Christmas manger. Most evenings you can enjoy some type of live performance, like a local choir, band, or dancers.
Good to know: The National Tree is located at the Ellipse near The White House. Parking is very limited, so public transportation is recommended. The closest Metro stations to the White House are Federal Triangle, Metro Center, and McPherson Square.

Fun fact: The current National Christmas Tree is a majestic 40-foot Colorado blue spruce transplanted from York, Pennsylvania in 1978.
Light count: More than 45,000 lights on 900 50-light strings
December 7, 2019, 5:30 pm (parade starts at the Alexandria Waterfront) to 9 pm, Held Rain, Snow or Shine, Free
What do both Old Town Alexandria and Washington, DC have in common? The Holiday Boat Parade of Lights is a favorite holiday celebration. Most of the activities take place on the Wharf, 760 Maine Avenue SW, DC, but the parade can also be enjoyed on the Virginia side of the river. Dozens of festively decorated pleasure boats, including powerboats, sailboats, and the District's fireboat, the John Glenn spouting water 70 feet into the air, light up the Potomac River. The brilliantly lit boats are imaginatively decorated to compete for the titles of "Best in Show," "Best Thinking Outside the Christmas Box," and "Hardiest Souls."
Before the parade arrives at the Wharf, activities and music kick off at 6 pm, then boats arrive at 7 pm followed by the fireworks finale at 8 p.m. After the fireworks, you're welcome to stay awhile longer and enjoy live holiday music.
Good to know: You can also view the parade on the Virginia side of the river. The best place in northern Virginia to view the parade is from the docks of the Alexandria marina.
Fun fact: Waterskiing Santa will have a boat in the parade!
Light count: We don't really know, but there are more and more every year.
THE NEW D.C. TREE LIGHTING HOLIDAY TRADITION
Bozzuto's free community tree lighting events are a DC tradition. Come with friends and family and enjoy the sounds of the season, family-friendly activities and some of the best holiday lights in DC. They are sure to lift your holiday spirit.
November 30, 2 pm to 5 pm (tree lighting), City Market at O, 800 P Street NW, Free
December 6, 6 pm to 8 pm (tree lighting), Cathedral Commons, 3401 Idaho Avenue NW, Free
December 6, 6 pm to 8 pm (tree lighting), Cornerstone Plaza (in front of Busboys and Poets), 625 Monroe Street Northeast, Free
December 7, 5 pm to 7 pm (tree lighting), Rhode Island Row, 2300 Washington Place NE, Free (We're partnering with WPGC 95.5 to host their annual coat drive from 10 AM – 7 PM. Stop by to donate your gently used or new coats and cold-weather accessories to benefit the local Salvation Army.)
DC has just what you need to keep your holidays merry and bright. See you under the lights!